ExpeDat Mobile (iOS only)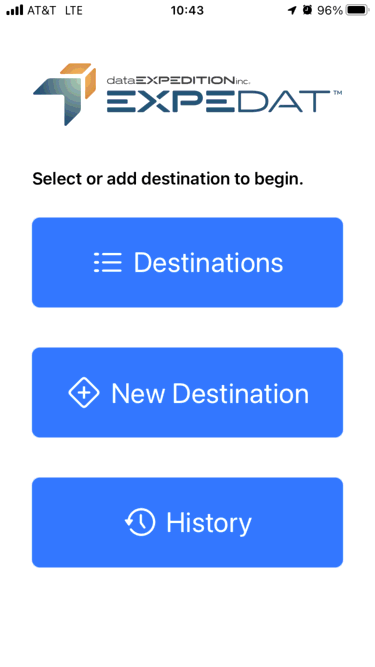 ExpeDat Mobile allows you to upload documents and media from your iOS device to ExpeDat version 1.20A and later servers. It is available from the Apple App Store and can be launched manually or by clicking on an expedat:// URL.
ExpeDat Mobile can move a lot of data very quickly, so check your data plan if you will be transferring files over cellular.
Using ExpeDat Mobile begins with adding a server destination, either by following an expedat:// URL or entering server details manually. Once a destination is entered or selected, you will be prompted to choose the documents or media to upload. The app will queue the files and begin uploading them, showing progress and results as it goes. A history of past transactions is kept along with diagnostic logs.
Due to iOS restrictions, the app must be kept in the foreground while it is transferring data. If the app is switched to the background or the device is locked, data transfer will be paused.
The first time you transfer media using ExpeDat Mobile, you will be asked to grant full access to your media library. Full access is necessary to allow ExpeDat Mobile to transfer the actual media files.
Sections: